Pur Confort.
Pur Confort is Guinots SPF 15 protective and soothing cream.
Pur Confort protects the skin against any environmental irritants and also reinforces the skin from the inside out. You can apply this cream daily to the face and neck after thoroughly cleansing the skin.
Elle Vie Beauty are stockist of Pur Confort with the retail price of £47.50.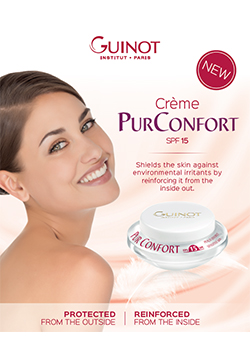 HEYLAND AND WHITTLE.
Heyland & Whittle is a quality soap and home fragrance manufacturer based in England. We create what we believe are outstanding natural products with tradition, style and authenticity for a discerning market.
Inspired by our original location on a farm in rural Surrey, Heyland & Whittle produce a range of handmade soaps in the traditional cold-processed method, using only the very best natural ingredients. Essential oils, herbs and spices are combined to create our sulphate and paraben-free range.
MAKE-UP ERASERS.
THE MAKEUP ERASER REMOVES 100% OF YOUR MAKEUP WITH WATER ONLY. JUST WET THE CLOTH AND REMOVE YOUR MAKEUP. THIS INCLUDES WATERPROOF EYELINER AND MASCARA, HD MAKEUP AND MUCH MORE. THE BEST PART IS…IT'S REUSABLE. THROW IT IN THE WASH AND NO STAINS REMAIN. THE MAKEUP ERASER WILL LAST UP TO 1,000 WASHES AND ELIMINATES THE NEED TO BUY DISPOSABLE PRODUCT TO REMOVE YOUR MAKEUP. THE MAKEUP ERASER CLOTH WITH A HAND-SEWN SATEEN EDGE THAT'S PLUSH AND SOFT TO THE TOUCH. TREAT YOURSELF TO A SPA AT HOME EVERY DAY, WHILE SAVING MONEY!
AVAILABLE IN PINK,BLUE,PURPLE.
TAN ERASERS.
Have you ever wondered how to remove fake tan easily? Then Tan Eraser exfoliating tan removal mitt is the perfect solution.
Exfoliating with Tan Eraser leaves your skin beautifully soft and prepares it perfectly for your next spray tan application resulting in a more even and longer lasting spray tan.
Use the pink side for light exfoliation and the black side for those more stubborn areas like the elbows and ankles.
Our mitt is perfect for tan removal and works with both self tan and professional spray tanning products.
SOAPSMITH.
"Delve into London's Soapsmith and discover a world where the power of scent transforms… a world where artisan soaps, gourmand-inspired butters and silken lotions nourish your skin and rouse your senses; where life's most vibrant cultures and colours burst from each pampering product, for the ultimate olfactory experience."
Soap smith has a varity of London named bath soaps and salts from Camden Town to Baker Street with a variation of smells that will leave you wanting more
. For more information enquire within.
BEAUTIFUL BROWS.
Beautiful Brows is lovingly made in the UK manufacture and retail a unique, revolutionary system and all-in-one brow makeover that creates perfectly coloured eyebrows in next to no time.
Elle Vie now stock a range of colours to suit any kind of skin colour/type.
To add to the glory, the beautiful brow is also gives you smudge proof, sweat proof and water resistant eyebrows in seconds!
Beautiful brows have received notices by all the big names such as Vogue, Womans own, The Sunday Mail, Plus many more.
For your free demonstration, contact Elle Vie now, and transform your eyebrows in seconds!
Guniots Eye Logic.
A 3 step treatment to target signs of ageing and fatigue.
This unique treatment targets signs of ageing and tiredness around the delicate eye area, including fine lines, wrinkles puffiness and dark circles. All for only £40 per treatment, recommended a course of 3. When booking a course of 3 you will receive 10% off!!
For a consultation or to book Call 0121 354 9264 or pop into Elle Vie Beauty, Boldmere to arange your appointment.
EXCITING NEWS!!
Lesley, Elizabeth and Sue would like to welcome our new level 3 apprentice, Lauretta.
Lauretta is a qualified Level 2 Beauty therapist. She has recently finished studying at The Heart Of England Training in Birmingham. She has joined Elle Vie to achieve her Level 3 qualification. For more information or to book your appointent, contact Elle Vie Beauty now!!!
......................................................................................................................
For details of the latest innovations please see;
http://uk.guinot.com/