Pur Confort.
Pur Confort is Guinots SPF 15 protective and soothing cream.
Pur Confort protects the skin against any environmental irritants and also reinforces the skin from the inside out. You can apply this cream daily to the face and neck after thoroughly cleansing the skin.
Elle Vie Beauty are stockists of Pur Confort with the retail price of £47.50.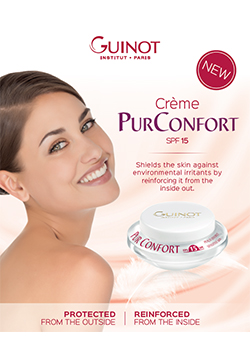 Age Logic Masks.
The eye logic mask is Guinots 3-step treatment to target signs of ageing and fatique around the eye contour area.
This unique treatment focuses on wrinkles and fine lines, puffiness and dark circles. This is a take home treatment that enables you to feel refreshed and relaxed in the comfort of your own home.
The masks come either indiviually or in packs of 4 costing £8.00 for 1 single mask or £31.50 for a pack of 4.
To Book Call 0121 354 9264 or email
and we will get back to you
For details of our Seasonal Promotions or bookings,
please email us at elleviebeauty@hotmail.com or find us on Facebook
Just email and we promise that your information will not be shared with any other Company